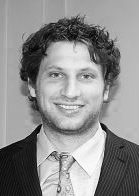 Steven Kogon
---
Steven graduated from the University of Guelph with a BA (Hons) in Criminal Justice and Public Policy, and received his Juris Doctorate with honours from Bond University, Australia's Number 1 ranked Ivy League law school.
Steven has received Reader's Choice Gold in 2017 and Platinum in 2018 as Georgetown's favourite Lawyer.
Steven has sat on the board of directors for the Halton Community Legal Service which is a not for profit community based organisation.
Steven is a member at the Georgetown Racquet Club and plays competitive squash.
Steven has been with Helsons LLP since 2011.
Areas of practice: matrimonial / family law, civil litigation,  and real estate.
Phone: 905-877-5200 ext. 223 Email:  s.kogon@helsons.ca