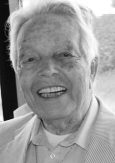 Frederick Helson
---
Fred retired from practice in 2004 and until his death in August 2018 served the firm as a resource person and mentor.

Fred was the son of a father who was an electrician, a farmer, a teacher and a tug boat captain.

A resident of the Peterborough, Vancouver, Brantford and finally the Halton Hills area he graduated from the Ontario Agricultural College (now the University of Guelph) in 1945 with a major in chemistry. He then served in the Canadian navy during the second world war.

After the war, he worked for Baxter Laboratories in Acton. He was the chief chemist and operations manager of the Canadian division of this company. He married Margaret Hoare from Georgetown in 1951 and he has resided in Halton hills since that date.
He decided to make a career change to become a lawyer and graduated from Osgoode Hall in 1957. He articled with McCarthy and McCarthy in Toronto and then joined Hewson and Ord to form the first three man practice in Georgetown. He was later appointed a Q.C. in recognition of his service to his community. He practised with many partners over the years including Terry Baines, Ken Langdon, Jack Belleghem, Ray Steele, Johan MacMillan, Allan Kogon, Dave Ashbee and John Schaljo.

He was a generous patron of the arts community in Georgetown and had generously donated to local causes.